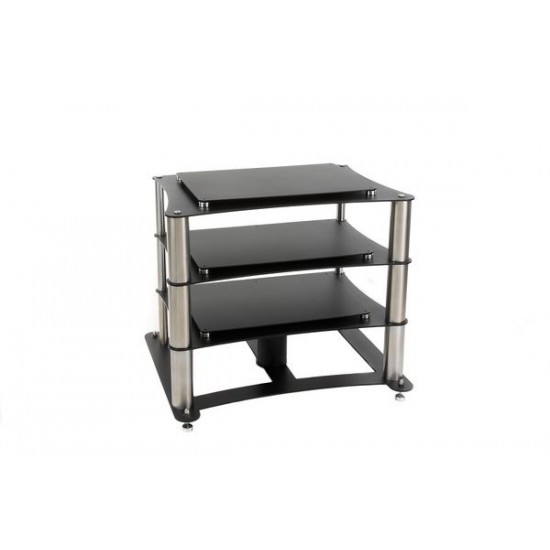 Hifi Furniture Definitive Acoustic HiFi 3 Support
HiFi Equipment Isolation Support HiFi Equipment Table HiFi equipment Stand HiFi Furniture Definitive Acoustic Hifi 3 Support Table HiFi isolation Table HiFi Isolation Support HiFi isolation Stand HiFi isolation Custom Design Acoustic Steel Isolation Platform Inert Aluminium Supports Shelves Custom Design All Design Copyright © to Custom Design 2015
Custom Design's philosophy is to achieve business by product design and service success. Innovation is an integral part of Custom Design. One of the main reasons for our continued success over the past 33 years has been the innovative design culture, combining engineering skills with new technology and isolating materials.
The HiFi Equipment Isolation Platform, Definitive Acoustic HiFi 3 Support Tables are exclusive to Custom Design and manufactured from our world renowned Inert Aluminum shelving and unique acoustic steel isolation platforms. The 6.5mm hand finished inert aluminium shelves are part of our philosophy to constantly question and challenge ideas, embrace modern engineering techniques and new materials. The Inert Aluminium and Acoustic Steel are the unique, pioneering isolation approach that Custom Design has taken to dissipate and convert unwanted energy in the form of resonance noise vibration. Maximising hifi equipment isolation through the conversation resonance noise vibration, converting the energy form to negligible heat to enhance sound performance of all hifi equipment. A huge improvement over ordinary isolating solutions, the conventional theory of absorbing energy. Energy can be neither created or destroyed, a fundamental law of physics
The inert aluminium and acoustic steel isolation platforms work on the advanced principle of constrained layer dampening, which is two sheets of the same material, developed to be the most efficient ratio, are then bonded together with the exclusive patented polymer system at Custom design .The polymers viscoelastic properties convert kinetic energy, resonance noise vibration to negligible heat. Thus preventing excessive resonance noise energy from effecting the performance of customers hifi equipment. Enhancing the sound performance, providing clarity, more detail with improved separation and an inky blackness to the bass complimented by timing and control.
The HiFi Table Definitive HiFi 3 are designed with 4 corner, satellite supports which are available in Chrome, Brushed Chrome, Black or White finish and combine with the 6.5mm Inert Aluminium shelves to provide a totally rigid, acoustically inert hifi support table. The acoustic improvements are substantial compared with traditional manufacturing methods and materials. The Inert aluminium shelves are Laser precision cut, hand made and hand finished.
Designed as a traditional hifi support table, the Definitive Acoustic HiFi Furniture range have a visual as well as a sonic performance impact. The Definitive base platform provides a solid, rigid foundation with a unique 76mm ERW BS EN 10305-3 centre support column to enhance performance. The extended footprint provides total stability with a custom service available for all sizes of hifi equipment,
The Definitive Support Table Design provide a unique, acoustically inert equipment isolation platform for our customers who demand and require a more exciting, dynamic performance from their hifi isolation furniture support.
Custom sizes available on request.

Acoustic Aluminium Shelves - 595mm wide x 400mm depth x 6.5mm
iRAPs supplied as standard - F type 430 x 300
Satellite Support Spacing available as standard - 125mm - 150mm - 175mm - 200mm
Satellite Support Finishes available - Chrome - Brushed Chrome - Black - Mercury- White
M8 Base isolation spikes zinc plated supplied standard
Image above: Definitive Acoustic HiFi 3 - Black with Brushed Chrome satellite - 3 F type iRAPs supplied as standard.
Floor Protectors optional extra £19.99 set 4.