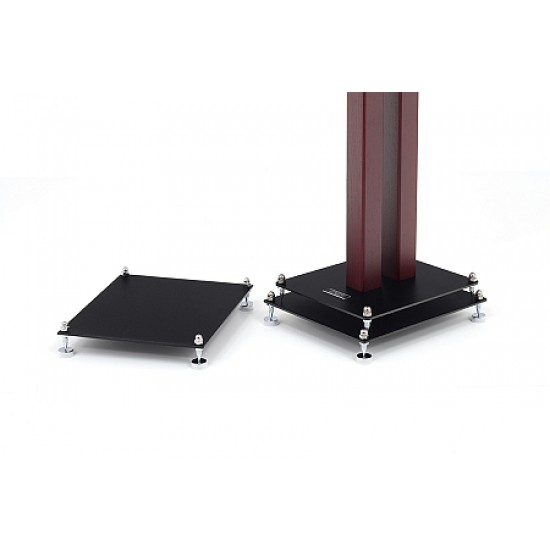 Speaker Stand iRAP
Speaker Stand Isolation Acoustic Steel isolation Platform Speaker Stand iRAP Isolation Platform Acoustic Steel Isolation Speaker Stands Floor Standing Speaker Isolation iRAP Speaker Stand Support Speaker Stand iRAP Design Copyright © to Custom Design (Newcastle) 2008

Energy can be neither created nor destroyed, that is why the Speaker Stand iRAP Isolation Platforms have been designed and manufactured from Custom Designs world renowned 6mm Acoustic Steel. which converts unwanted resonance energy to negligible heat. The synchronous vibration energy can be absorbed and converted, dampening resonance vibration, isolating floor standing speakers or speaker stands if required from the floor.

The Acoustic Steel is manufactured exclusively by Custom Design with a patented polymer to create a constrained layer dampening system. Consisting of 2 sheets of different thickness 5mm and 1mm, steel which have been researched and developed to be the most efficient . This converts the resonance energy to negligible heat by the creation of friction..
The speaker iRAP is suitable for both floor standing speakers and stand mounted or book shelf speakers (please check size before ordering). The viscoelastic property of the constrained layer dampening system contains an energy absorbing patented polymer which converts the energy form. When combined with steel the polymer provides an inert platform, called Acoustic Steel which can easily be adjusted for leveling with the Zinc plated allen key adjustable, easy access M8 adjustable base isolation spikes, supplied as standard.
The resulting improvements are significant and the versatility of the Speaker Stand iRAPs enables them to be adapted to any furniture support system for isolating not only floor standing speakers, but hifi supports or even hifi equipment. Standard dimensions are 280mm x 370mm x 6mm, with custom made sizes available on request.

Available in Black 280 mm x 370 mm Speaker iRAP's are designed to compliment the Custom Design speaker stand range, improving clarity, detail and separation and especially to vocals and bass frequencies. Custom sizes are available on request.


Speaker iRAP Acoustic Isolation base platform size - 280mm x 370mm x 6mm Acoustic (set of 2) £249.99
Custom made sizes available on request
M8 Zinc Plated allen key adjustable easy access base isolation spikes
View IRAP graph


Image shown: Speaker iRAP with SQ 402 Mahogany/Black speaker stand and Floor Protectors